About Us
What is the mission of Northeast Stage?
The mission of Northeast Stage is to continue the tradition of free summer outdoor performances of Shakespeare in Greenport's Mitchell Park and to expand its reach to include classics as well as other creative theater projects in different venues. All presentations aim to involve the community through participation as both presenters and audience and to develop actors, directors, producers, designers, set builders and costumers through workshops and exposure to professionals in visual and performing arts.
While Northeast Stage remains committed to the annual FREE Shakespeare-in-the-Park program, we also present at least two other productions throughout the year at affordable ticket prices, as well as other free presentations and actor-training workshops.
---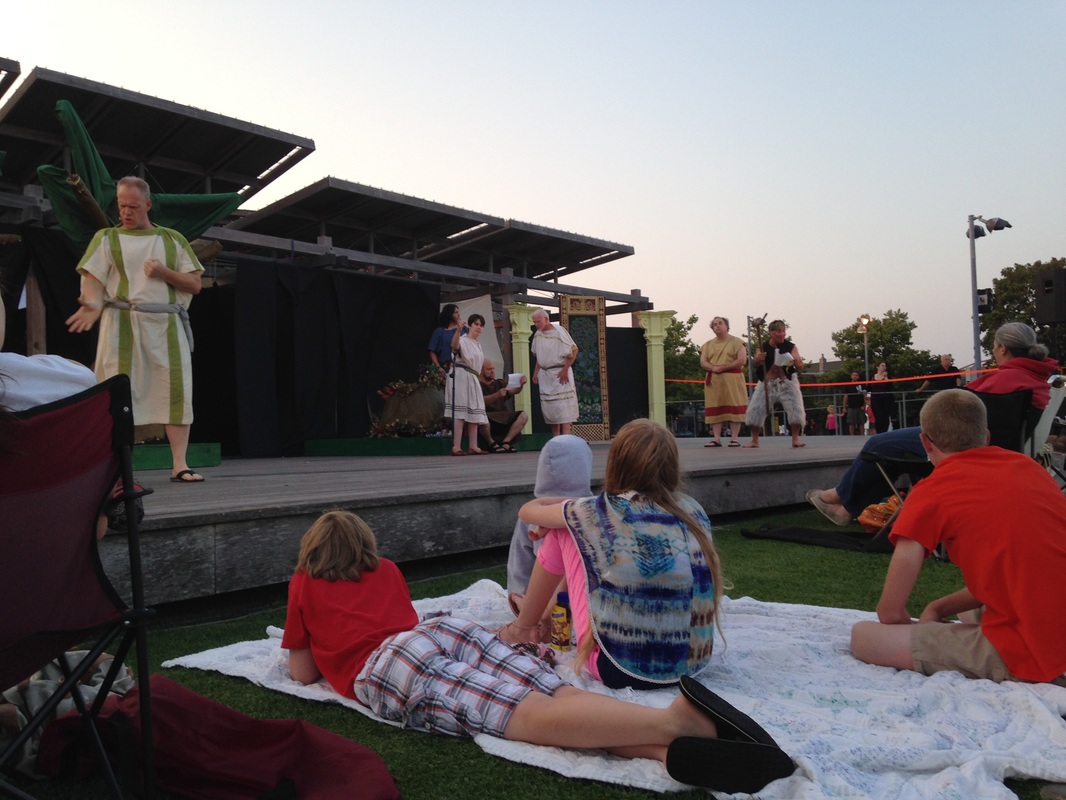 What makes working on a Northeast Stage production worthwhile?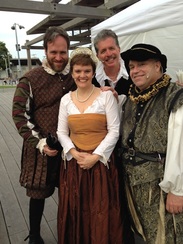 For Amie Sponza, it's the chance to work with professional directors and other artists:
"My association with professionals in different capacities, such as Directors Peg Murray and Michael Disher, Technicians, Costumers, and Musicians, such as Don Fisher, Joan Chambers, Nancy Lee Baxter and Cork Maul, and artists, such as Carol Owens, James Pritchard and Lee Pufahl, have made my experience with Northeast Stage enriching and fulfilling in so many ways. It's part of what makes working with this company so rewarding and exciting. It changes from year to year, and everyone gets a chance to learn and grow and provide the community with quality entertainment".
For James Pritchard, it's the chance to gain theater experience, the feeling of community one gets from pulling together as cast and crew to put on a show, and the chance to discover the pleasure of Shakespeare:
"I started in very small roles for Northeast Stage about 6 years ago, and have worked my way up. I found the process of being part of a production a rich experience. I learned first hand how a play is pulled together for presentation to an audience. I also realized by being in the plays and watching the productions by Northeast Stage, that Shakespeare is not some high-brow, stuffy and intimidating bore, but an exciting exploration of human beings and how they act under extraordinary conditions."
For Tom Lamothe, it is the chance to be onstage and work with other theater artists, and to reinforce a sense of community:
"It is a transcending experience that engages every part of me. Acting, especially the works of Shakespeare, makes me feel more alive. When I strut and fret my hour on the stage I am both the character in his world and myself in mine. On stage I am one with my fellow actors, the audience, and with the legions of others who have played the role before me, as well as those who will follow. I am, to quote the Good Book in different context, "surrounded by a great cloud of witnesses." We are, together, exploring and expanding our common humanity by means of the greatest dramatic literature ever written.
For A.D. Newcomer, it was the chance to get a start in local theater and learn by doing, as well as to discover the sense of community, respect, collaborative spirit, and artistic exploration that comes from working in the theater.
"The creative process of a theater production is an exercise in working together to accomplish a common goal while still respecting and encouraging the creativity of each individual. Theater is by necessity a collaborative art, and in so being, it allows us to solve problems together, become even better problem solvers, learn to listen to and learn from the opinions of others while still fighting for what we believe in, band together towards the accomplishment of something larger than ourselves, work hard, take chances, trust in creative partners, explore whole new worlds (the world of the play) and learn how to save the show together and see something through even when it seems like everything is about to fall apart (and anyone who has witnessed the last week of rehearsal for any production, anywhere, knows that this last one is a regular part of the process). Unless one is immune to learning, one invariably comes out of working on a theater production knowing a little more about human nature and what community means.
---
Why perform Shakespeare or attend a performance?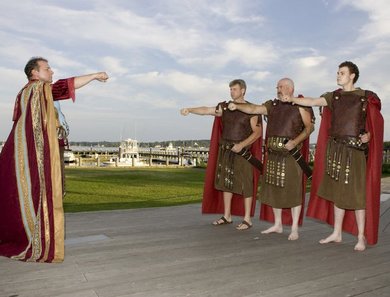 "The Shakespearean characters I have been privileged to play thus far are now old and dear friends, and indeed will be part of me forever. To have been able to incarnate them, yet again, for my family, friends and neighbors here on Long Island has been one of the greatest blessings of my life."
~ Tom Lamothe, North Fork actor
"William Shakespeare was the first theater artist to create whole characters for actors to play. Until he came along, actors acting represented allegorical concepts or were speaking action figures engaged in one kind of conflict or another. William Shakespeare has enlightened humanity about its own emotional complexity, at sea in an incomprehensible world. The joy to be found in the language of the speeches and the reality of the characters combine to make an irresistible package that always works, one way or another. All actors want to play Shakespeare, or should, if they know what's good for them. Audiences of all sorts can enjoy the work of even the least experienced troupe, as they recognize some of the words, recognize themselves in some of the characters, and so on. It's no mere coincidence that so many communities across the country have summer Shakespeare festivals. It's because it's fun, it's real, it's forever. It's magic."
~ Tom DeWolfe, North Fork actor, producer & director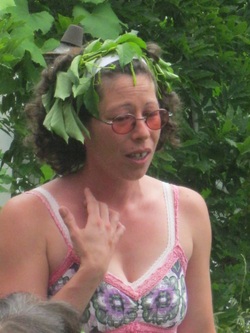 "We must not forget that the works of Shakespeare were written not to be printed and read, but performed on the stage, in collaboration with a troupe of Players. There is no existing evidence that Shakespeare ever intended to have these works printed, although through the efforts of his fellow actors, we are lucky enough to have them 400 years later. So it is onstage that these magnificent plays come alive, because that's what they were designed to do. And I can tell you, one will never get to know a Shakespeare play as well as when one is asked to prepare to bring it to life before an audience of expectant playgoers. Shakespeare's texts remain a living, breathing work, an ongoing collaboration with generation after generation of actors, artists, and audience. As a director, I enjoy immensely working with a talented group of actors who, when faced with the endless interpretive possibilities of a play, bravely jump off the deep end and make choices in the moment, based on the truest answers to the questions of character they can find and thereby holding "the mirror up to nature" for us. Actors, by embodying a Shakespeare text, must treat the things they say and the things they do not as words on a page but as modes of survival, and words in Shakespeare are not pretty speeches, they arise from a very human need to reach out and affect the world around us. That has not changed in 400 years, on or off the stage. By engaging in this struggle - as theater artists do - to tell the truth on stage, we become better at knowing the truth of ourselves."
~ A.D. Newcomer, local director & Shakespearean dramaturg
"In college and high school classrooms around the country, students are forced to make a terrible mistake: they read Shakespeare. Coming from a time when the spoken play of words had the hypnotic and powerful substance of our television and internet, the text of Shakespeare's plays on the page alone often presents an insurmountable obstacle to young people forced to read it. The problem is that the power of Shakespeare's text lies not in drab classroom readings but in performance. Shakespeare wrote texts for actors, not novels for critics. By looking at Shakespeare through an actor's eyes it is possible to reach beyond a simple reading and into the inner life of characters that otherwise could seem distant and irrelevant, where in fact the power of Shakespeare is his ability to constantly access the deepest parts of our common humanity and magnify them."
posted by Paul Masters online at Associated Press on 3/30/07